Activity Of The Month: November
Share facts.
Get to know your colleagues.

Play Fact Bucket.
Every month, a new Atium activity will be opened up to play with your team for free! During November it's Fact bucket!
1. Create an activity room and invite your colleagues by sharing your link
Fact bucket works best for teams of at least 3 people and up to groups of 10. Above that we recommend making several 'rooms' to keep everyone engaged.
2. Enter your 'fact'
Write a fact or tidbit about yourself that you want to share with your team. We've provided various themes to get you and your team started and build that vulnerability muscle.
3. Guess who said what
Now it's time to show how well you know your colleagues. Guess who entered what fact.
4. See how well your team knows you!
>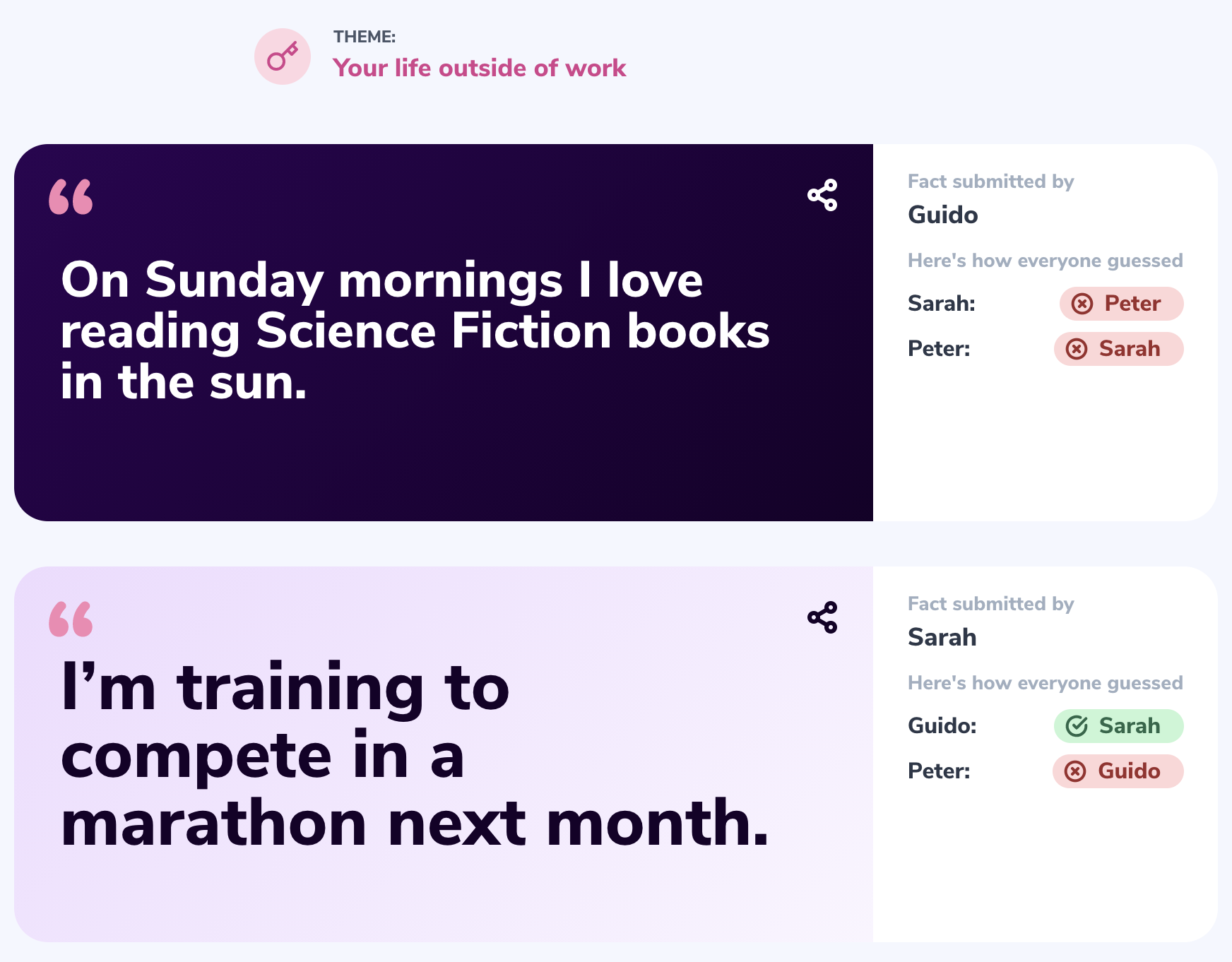 In the end you'll not only get to see who knows your team best, you'll also see who guessed your fact correctly!
Remote culture eats strategy for breakfast
At Atium we believe that remote teams need to be intentional about building connection. It's the human connections that are the foundation to a thriving culture.
To that end, Fact bucket has three underlying objectives:
Meet as humans
Get to know your colleagues as human beings with friends, families and interesting lives outside of work.
Lead with curiosity
Practice your curiosity muscle, assuming good intent and asking questions before making assumptions.
Celebrate wins
Grow closer together by recognizing small wins and big failures.
Create a free account to play all activities
Atium helps you make time for the important, but not urgent, social moments that are essential to build a strong remote culture.
If you like Fact Bucket, and would like more activities like this... We got just the thing!
Sign up for a free account to access all our activities and advanced features.